November 2016 Vol 9, No 8
The landscape of population health is evolving rapidly, which supports the ageless contention that change is the only constant.
Jun Tang, PhD
,
James Bailey, MD, MPH
,
Cyril Chang, PhD
,
Richard Faris, PhD
,
Song Hee Hong, PhD
,
Michael Levin, MD
,
Junling Wang, PhD
Multiple sclerosis (MS) is a chronic, debilitating disease that attacks the central nervous system. It is estimated that approximately 400,000 people are living with MS in the United States, and approximately 10,400 patients are newly diagnosed with the disease annually.
What Makes Specialty Pharmacy Care So Special?
Qing Huang, PhD, MHS
,
Michael Grabner, PhD
,
Robert J. Sanchez, PhD
,
Vincent J. Willey, PharmD
,
Mark J. Cziraky, PharmD
,
Swetha R. Palli, MS
,
Thomas P. Power, MD, FACC, MRCPI
The benefits of statin therapy in reducing cardiovascular (CV) events are immense. In numerous studies, lowering low-density lipoprotein cholesterol (LDL-C) levels with statin therapy has been shown to reduce rates of major adverse CV events, such as myocardial infarction (MI) and stroke.
Using Statin Therapy to Reduce Atherosclerotic Cardiovascular Disease Risk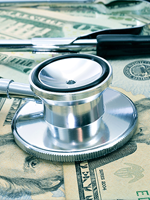 The United States is the only profit-motivated healthcare system in the world, and perhaps it is no coincidence that this country also has the most expensive healthcare of any nation.
Rajiv Mallick, PhD
,
Aditya Raju, MS, BPharm
,
Chelsey Campbell, PharmD, MBA
,
Rashad Carlton, PharmD, MSPH
,
David Wright, MD
,
Kimberly Boswell, MD
,
Michael Eaddy, PharmD, PhD
It has been estimated that approximately 24% of adults in the United States have visible varicose veins, and an estimated 6% have evidence of more advanced chronic venous disease (eg, hyperpigmentation or healed or active ulcer).
Important Insights from Real-World Treatment Patterns and Outcomes for Varicose Veins Management